How to winter proof your family home
By Freya Herring | Presented by Dyson|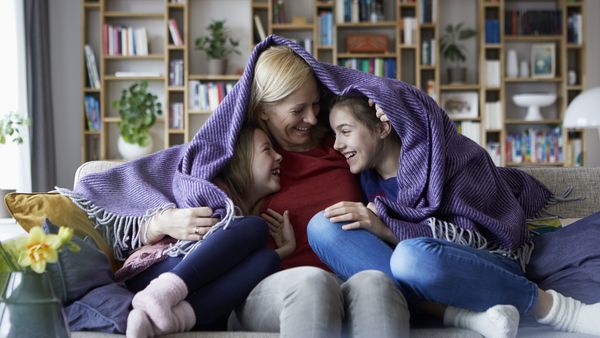 Winter is coming, and that means it's time to hunker down
Winter is coming, and that can only mean one thing: it's time to hunker down, grab a mug of something hot and tasty, and snuggle into that couch. But hold on there friend, there are a few things you need to do before you get too comfortable.
Here's how to winter-proof your house for the season ahead – you'll never feel more cosy in your life.
Warm up
It's obvious, but important: you're gonna need a heater. But don't go and buy a cheap one that barely heats the room – you'll end up having to buy another one next year, and the next year… Why not just buy a good one in the first place? Yep, the Dyson Pure Hot+Cool purifying fan heater heats your home to toasty perfection as well as clearing up the air. It's basically a mum: a multitasking miracle worker that once you experience, you'll never be able to replace.
Snuggle in
One of the best things about winter in Australia is the chance, after a hot summer, to get cosy. The best way to do it? A snuggly blanket. Go classic by investing in a 100% cashmere throw – yes, it will cost you, but you will have this blanket for the rest of your life. If it feels like too much of an extravagance though, go for one of the internet's current faves, a weighted blanket, which have been proven to reduce stress and anxiety. Just try not to fall asleep (scrap that: napping is what winter is for).
Pyjama party
Nothing, and we mean nothing, says winter like a good set of pyjamas and movie night in front of the tele. As the nights start to draw in and the air cools down, buy everyone in your family pyjamas and get ready for cosy nights in. It almost makes winter worth it.
Clear the air
One of the problems in the Aussie winter is airflow – with all the windows closed, our homes can get muggy, so just imagine what the air quality is like in there? Luckily, those nifty Dyson engineers have come up with a solution, the Dyson Pure Hot+Cool. It captures 99.95% of fine particles, including harmful pollutants, so you can relax knowing the air in your home is as clean as it is when the doors are wide open in summer.
Candlelight
Many mass-produced candles can contribute to indoor air pollution, so look for more natural alternatives such as those made from essential oils and soy, beeswax, coconut wax or hemp oil. Your home will instantly feel warm and welcoming – plus those glowing glasses sure look pretty when darkness falls.
At Dyson, we insist on developing technology that works properly, without compromise on any functions. The Dyson Pure Hot+Cool™ purifying fan heater delivers fast and even room heating in winter, powerful fan cooling in summer and efficient purification through all seasons. The machine automatically detects airborne particles and gases and simultaneously reports to the LCD screen and Dyson Link app in real time, encouraging wellbeing and maintaining comfort levels in the home.